Skijoring is the winter sport that cowboys love. It's a chance to ride one's horse while pulling a skier along. There are even a number of skijoring contests that take place during the season.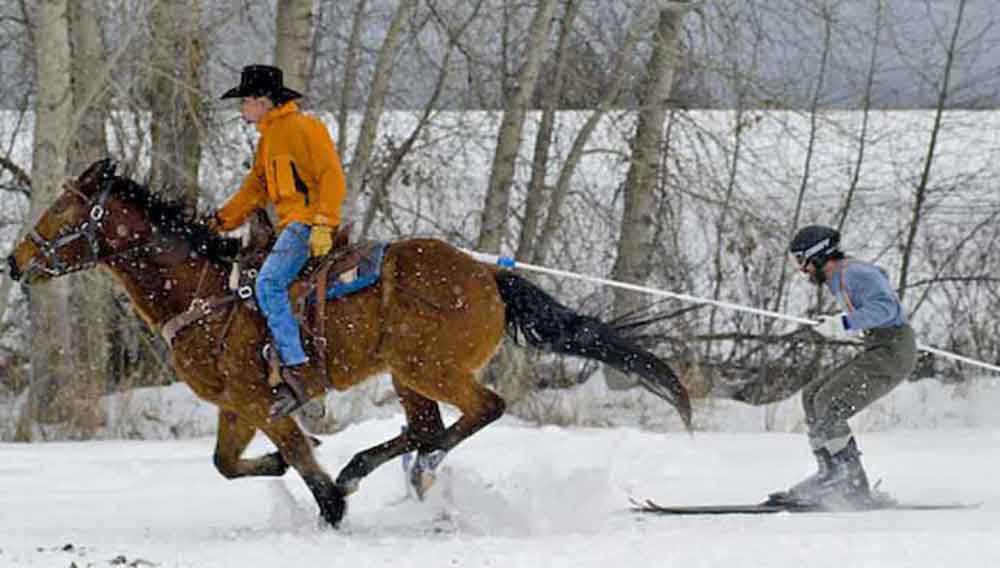 What's pulling you this winter? How about some skijoring…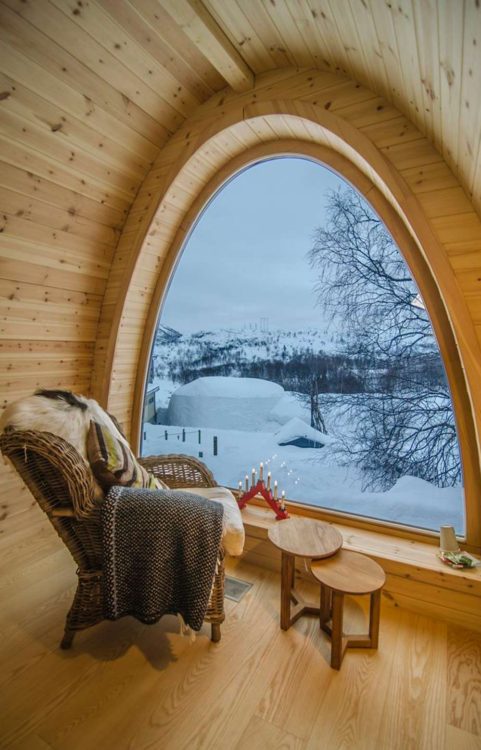 Winter weather presents everyone with two choices.  Shall you remain indoors?  Or, will you emulate the many wranglers who don't mind experiencing winter?
If you hanker for adventure and the outdoors even in the depths of winter, then skijoring might be just for you.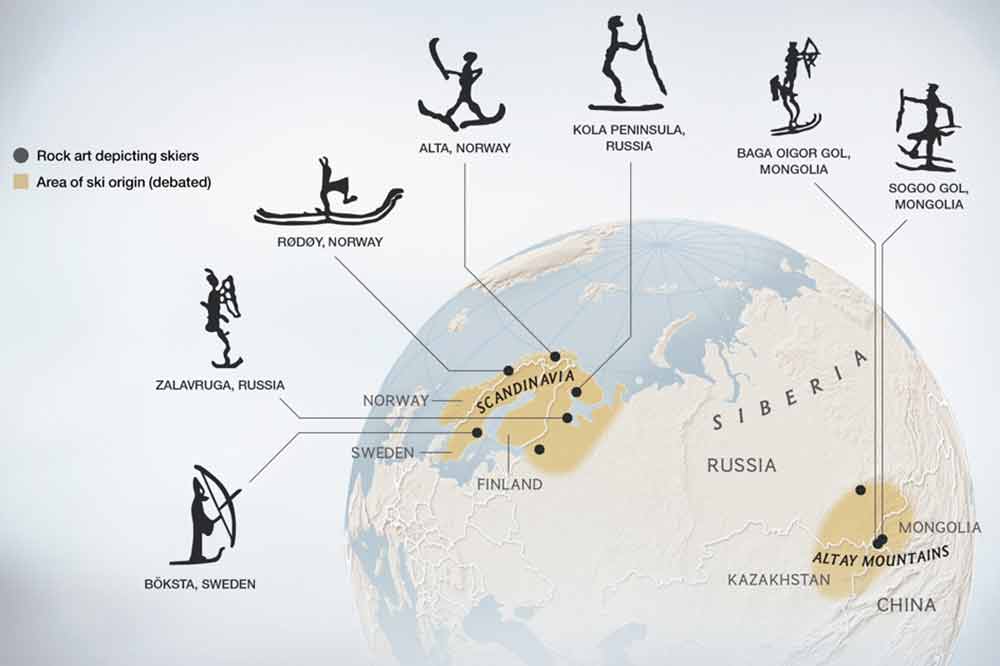 But before we get into skijoring, let's talk about skiing.  Skiing has been around for thousands of years, as evidenced by the ancient rock art found in prime areas around Eurasia.
Many historians still debate heavily on where skiing first began.  Mongolia or China?  Russia?  Or even Scandinavia?
What is known, however, is that, around 550 AD, Procopius — Byzantine scholar and court historian of the Roman Emperor Justinian I — wrote about the Skrithiphinoi.  The term translates as a tribe of nomadic mountain Lapplanders noted for their high proficiency in "striding," "sliding," and being exceptionally "swift-going" in the snow.  Moreover, 8th century Benedictine monk and Lombard historian Paulus Diaconus, or Paul the Deacon, is credited as the first Western historian to mention skis, when he described the Scandinavian "Scritobini [who] pursue wild beasts very skillfully by springing and bounding on a piece of wood curved like a bow."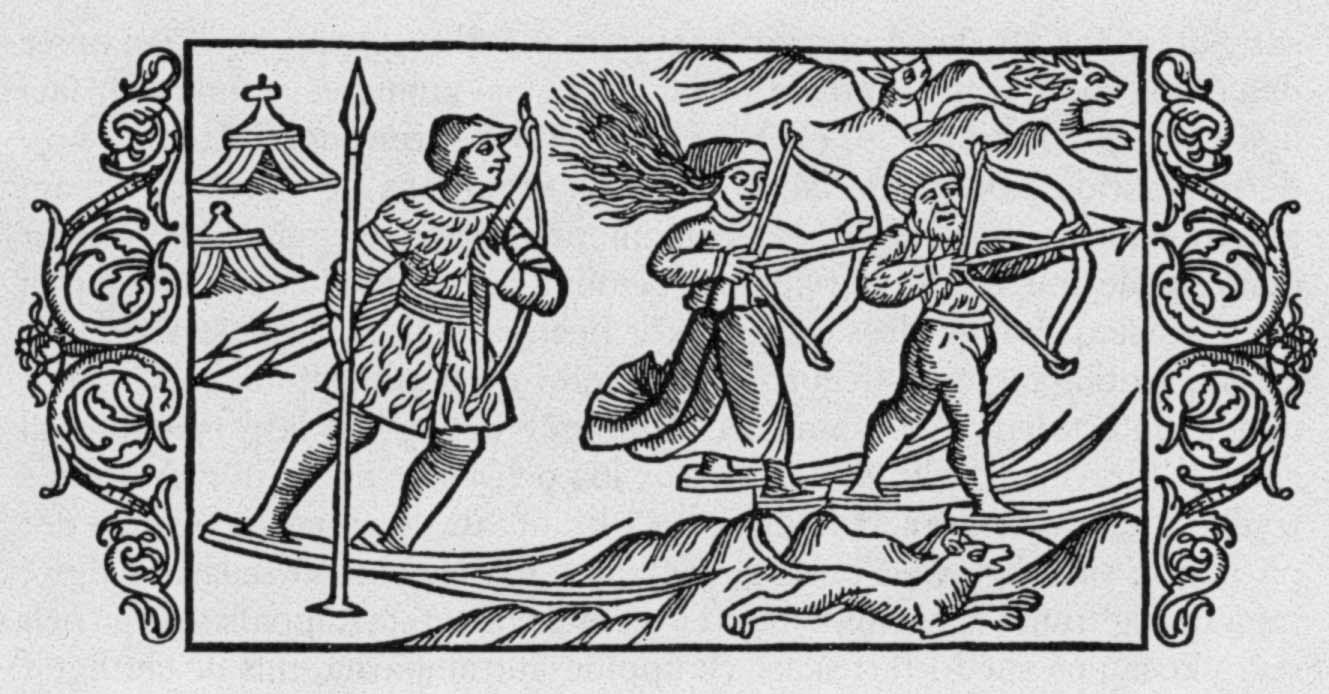 According to Paul the Deacon, the Scritobini attributed the etymology of their name to the word that translates as "springing" and is, in turn, related to the Old Norse word Skrida for "sliding" which also means "skiing."  In other words, Paul the Deacon's Scritobini are the "Skiing Bini" just like Procopius' Skrithiphinoi were the "Striding or Sliding Phinoi."
Interestingly enough, in the Norse pantheon, Ullr is the god of skiing.  He's married to Skade, the goddess of skiing.  Contemporary popular culture celebrates both deities.  Many skiing medals, for example, feature Ullr.  Skiing establishments  have logos devoted to him as well.  There's even a British fashion company called Ullr & Skade.
Besides being the god of skiing, Ullr was also the god of archery, hunting, and games.  It is likely that in some distant century long ago a Lapplander or Scandinavian felt inspired with the touch of Ullr to tie themselves via towline to a beast of burden that would pull them along so that they'd accelerate.  And in that pivotal moment was born the idea for skijoring in the Scandinavian countries.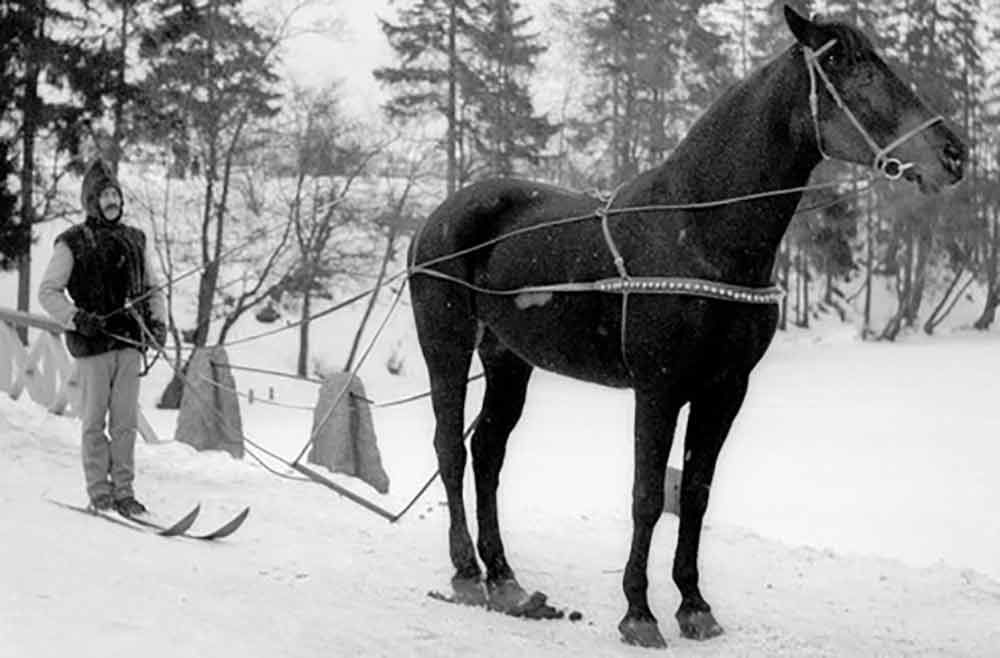 Skijoring of course took many forms. Besides skijoring with horses, there's also skijoring with canines and skijoring with reindeer.
Incidentally, researchers at Skijor International say that a Persian historian thousands of years ago in the Altai Mountains — which is located at the intersection of Mongolian China and Russia — first reported on a person being pulled on skis (or wooden boards) by an animal or animals, dogs in this case.  There is rock art dating back thousands of years ago that similarly supports this claim, although more evidence is still needed to substantiate this as fact.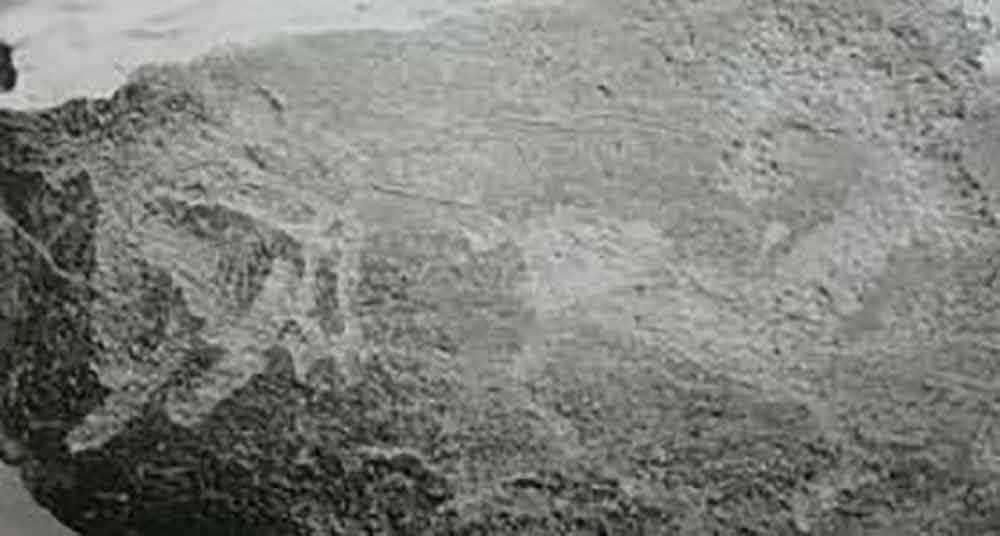 Skijoring, nonetheless, was first documented by Westerners in the 1800s when reports came in that horses under tack were seen pulling skiers through cross-country courses.  The Nordic military, saw the practicality of the idea, and thereby began employing the technique as the 19th century progressed.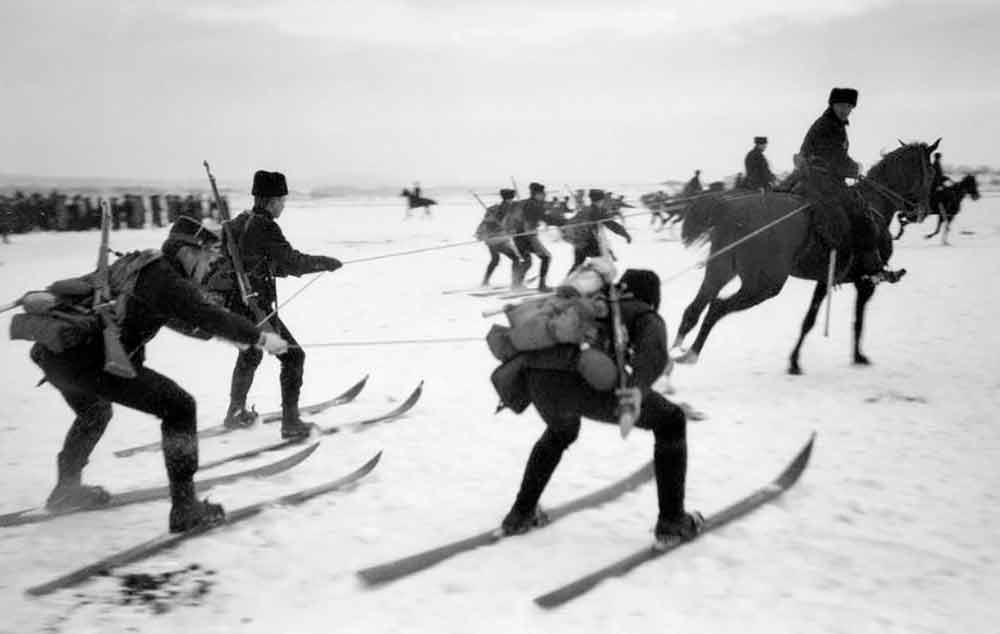 Not long after, skijoring gained momentum amongst the general population, especially in northern Europe.
By the turn of the 20th century, skijoring was featured as one of the events in various competitive games held throughout Scandinavia.  The Nordic Games, a precursor to the Winter Olympic Games, likewise had skijoring matches.
A key figure in the history of modern skijoring was Pierre de Frédy, Baron de Coubertin.  He is known as  the father of the Modern Olympics, for he established the International Olympic Committee in 1894.  The first modern Games were held in 1896 in Athens.  The first Winter Olympic Games then took place in 1924 at Chamonix.  For the 1928 Olympic Games at St. Moritz, Baron de Coubertin pushed to have skijoring as a demonstration sport.  That debut helped propel skijoring's popularity.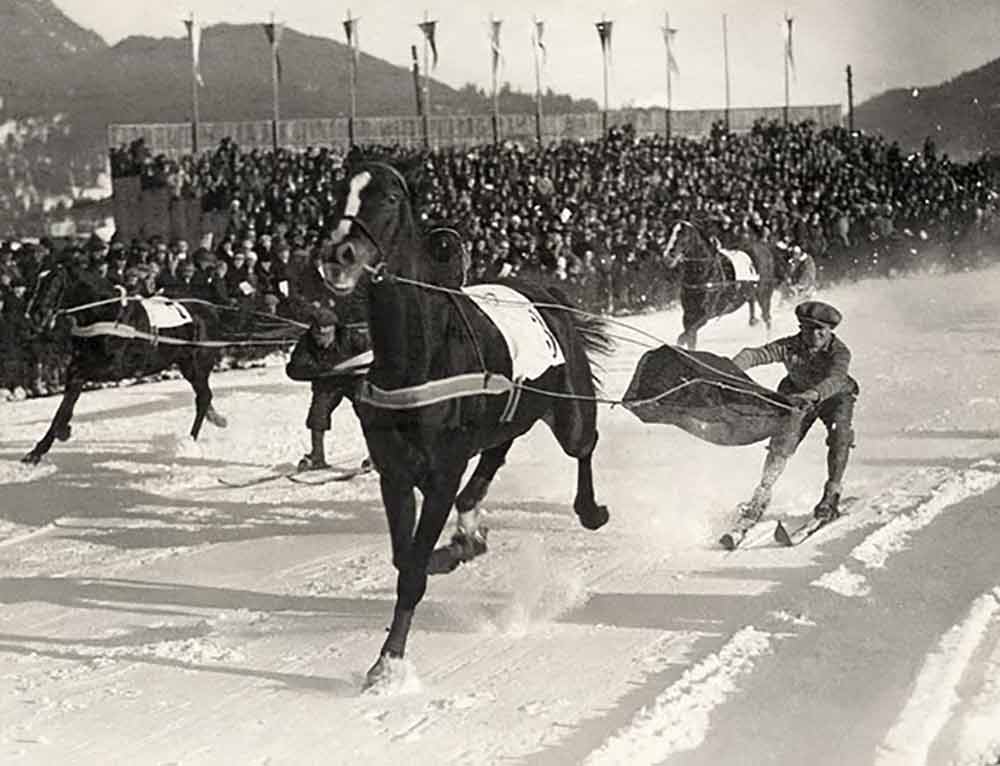 Skijoring captured the public's imagination, especially for those in traditionally winter countries —  like Scandinavia, Northern Europe, Canada, and the more winter-friendly states of the USA.  There were cases of skijoring via motorcycle and via early automobile, as these vintage photographs illustrate.  Many folks of old would often describe their experience as being akin to waterskiing.
However, skijoring by horse was the favorite, especially since the horse seemed to convey an air of aristocratic class and elegance, especially for European enthusiasts.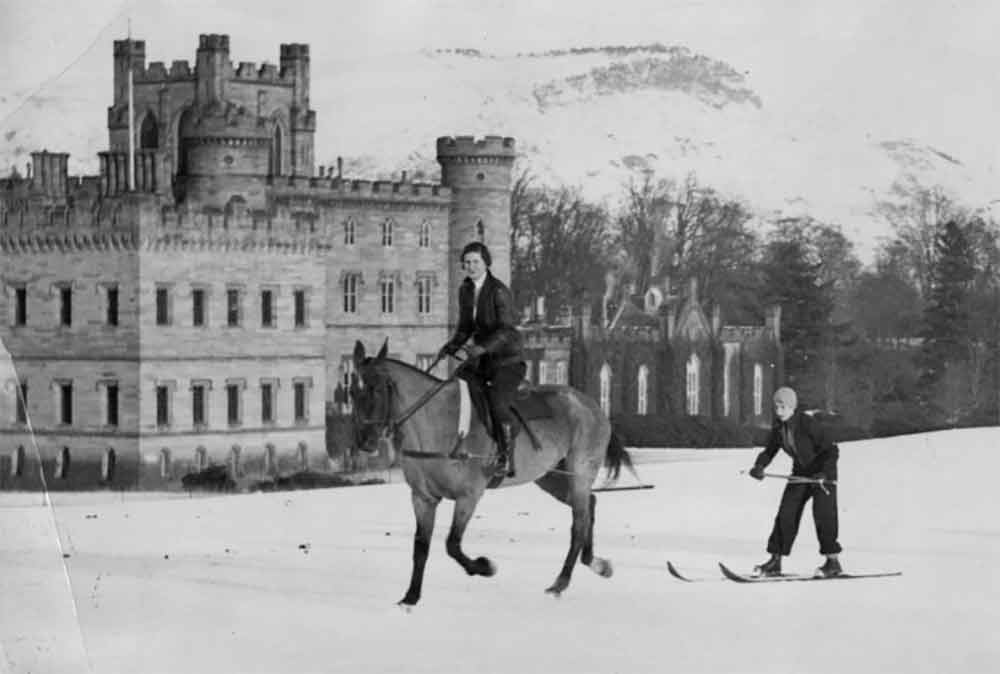 For American followers of the Wild West's traditions, equestrian skijoring held considerable appeal.  The idea of combining mounted riders and skiing was something American cowboys could identify with.  Not surprisingly, the sport of skijoring took root in wrangler country.  After all, cowboys and skis are not unheard of.
There's a story, though, that illustrates the watershed moment when cowboys adopted skijoring.  In 1949, close friends Tom Schroeder and "Mugs" Ossman sat at a booth in the Golden Burro Café in Leadville, Colorado.  The two were discussing what events to feature in their town's upcoming Crystal Celebration.  They wanted something new, so they headed to Steamboat Springs' winter carnival for ideas.  At Steamboat Springs, Schroeder and Ossman first saw skijoring — only it was at the rudimentary stage of horse-with-rider pulling a skier at a rather slow pace.  Schroeder and Ossman decided to add more edge to the Leadville version of skijoring.  When the two returned to Leadville they began making modifications to skijoring at the Ossman Ranch; there the sport of cowboy skijoring as we know it now was born.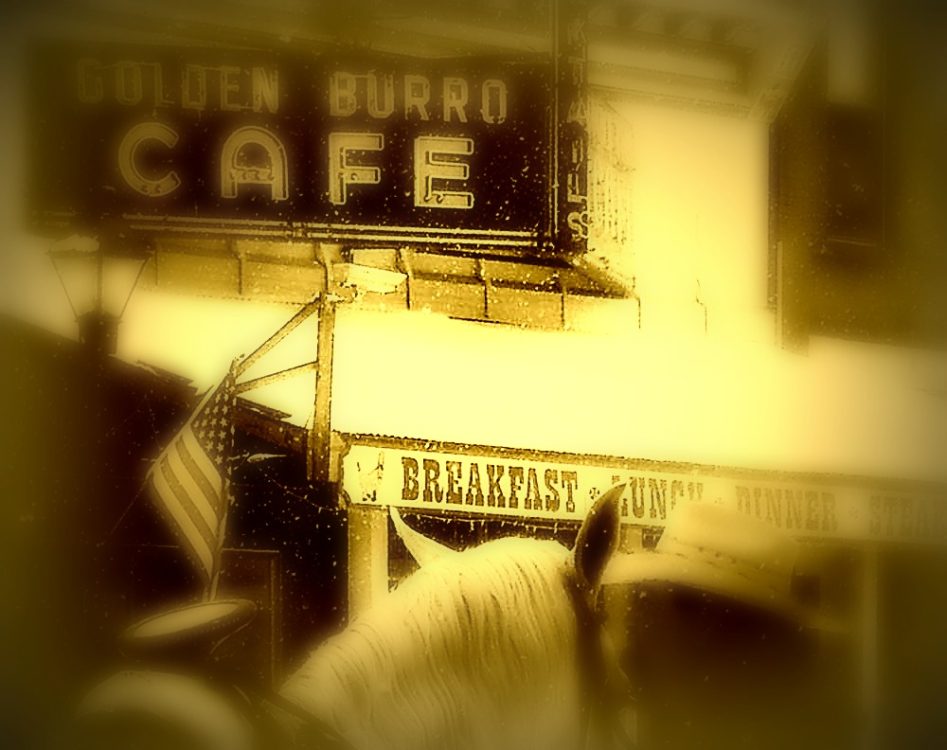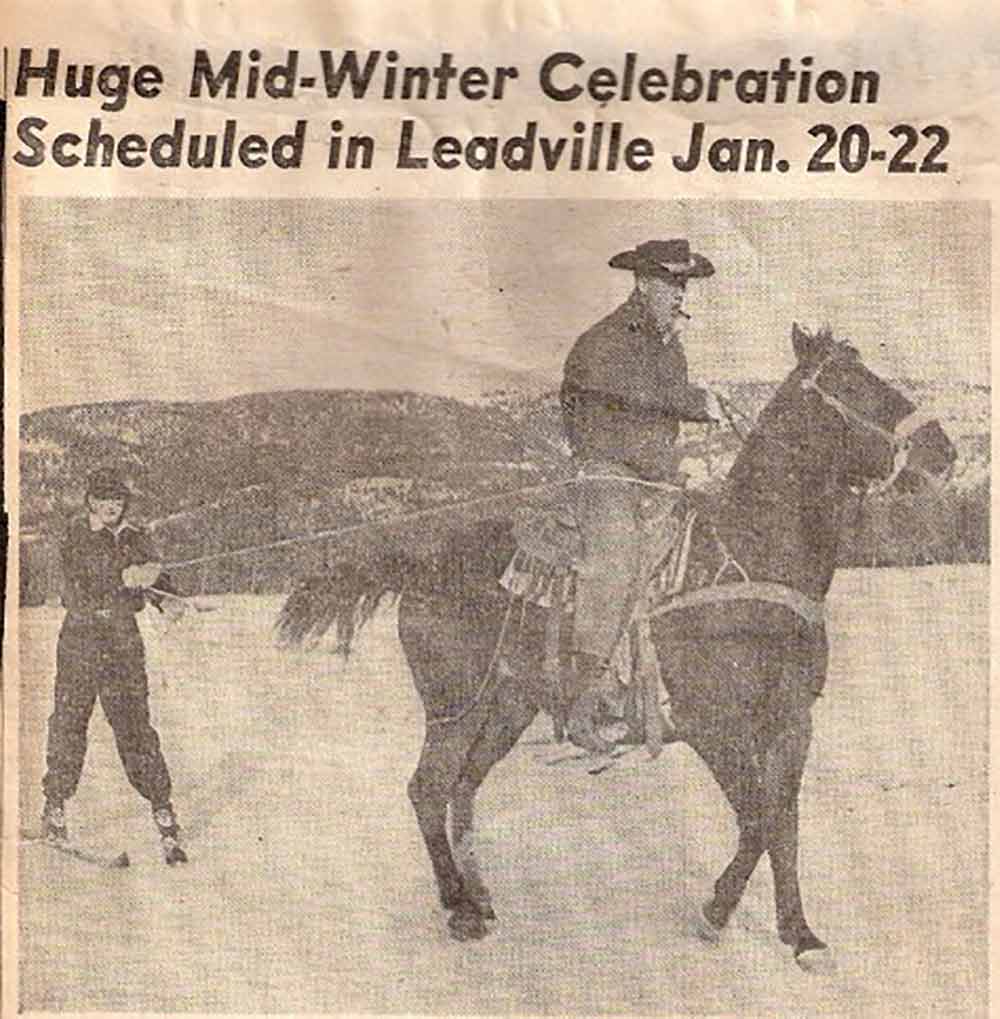 The late 1950s saw skijoring in the United States increase in momentum, figuratively and literally.   Several states, Montana and Colorado among them, began holding annual competitions that drew big crowds.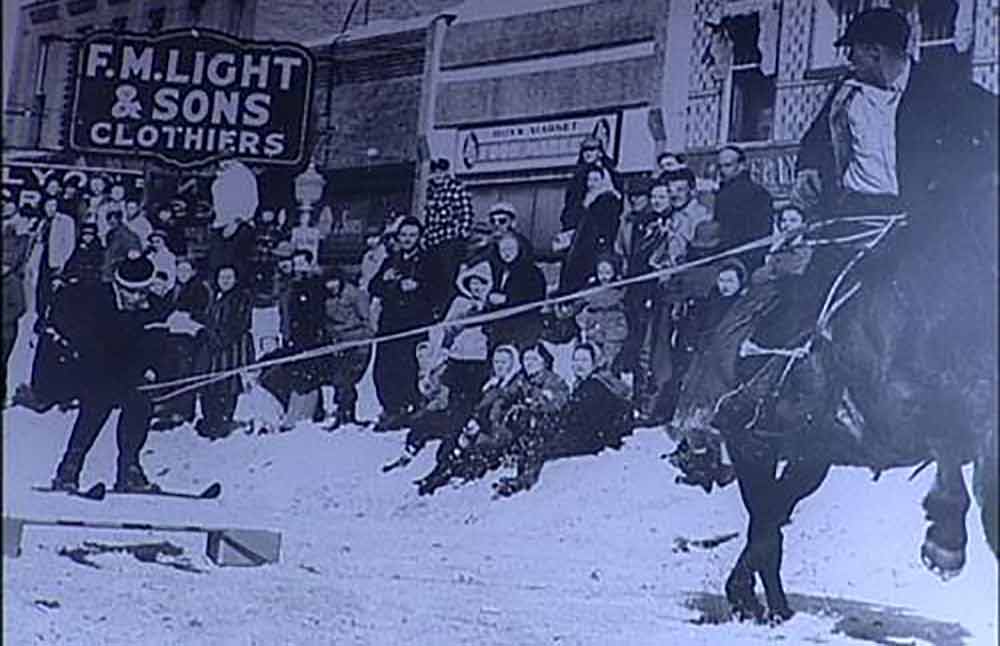 In 1999, the North American Ski Joring Association (NASJA) was created, which meant that skijoring in the United States (and eventually in Canada) was at last sanctioned.  The first NASJA-sanctioned skijoring race took place at Colorado in 2000.
Contemporary skijoring competitions in America now include courses with jumps, gates, and opportunities to spear jousting rings.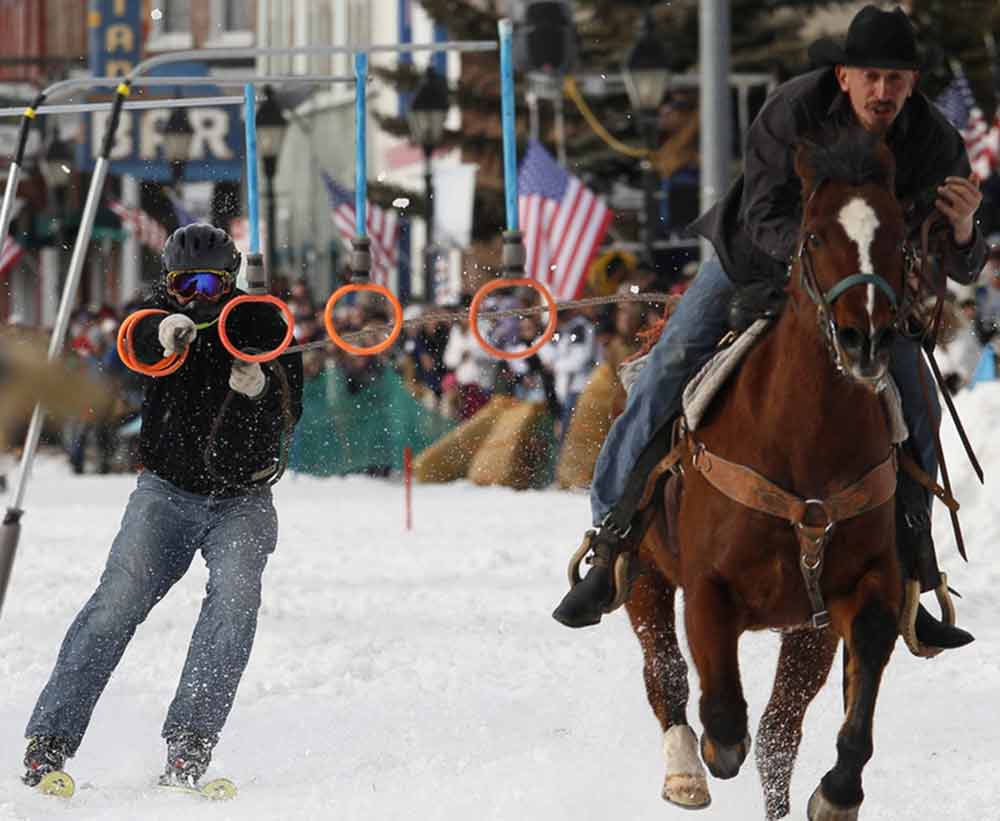 The NASJA website elaborates further on their role:  "NASJA was conceived because of a very basic need to consolidate existing ski joring races into a circuit where competitors can earn points that go toward a North American Champion Award. By developing criteria that all NASJA sanctioned events use as guidelines, each competitor will have an equal opportunity at becoming the official North American Champion.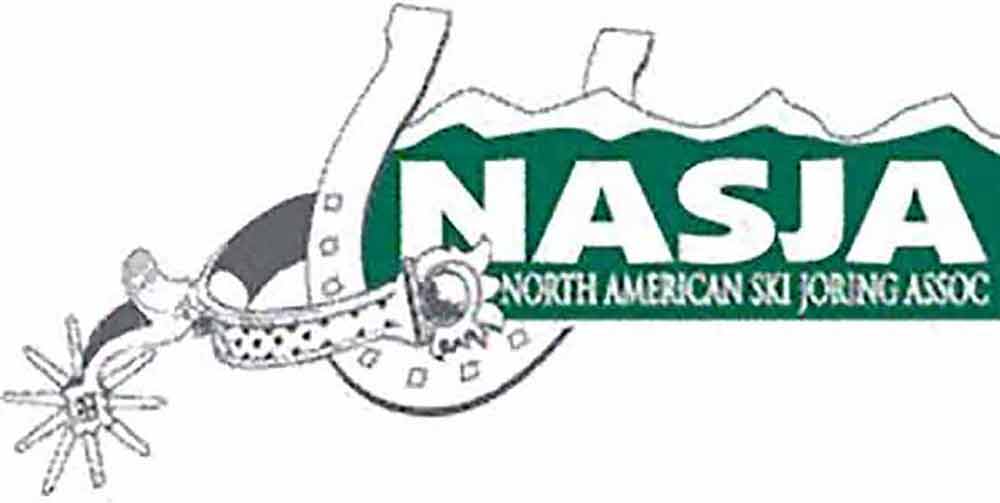 Six states are very active in US skijoring today:  Montana, Colorado, Wyoming, New Hampshire, New Mexico, and Idaho.  The mention of New Hampshire might seem unusual to some.  But its presence in the skijoring circuit is thanks to the creation in 2004 of the North East Ski Joring Association (NESJA).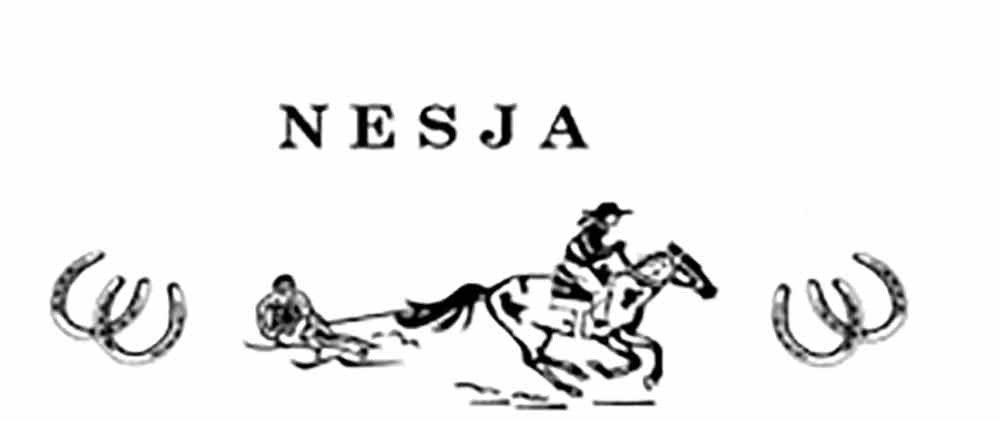 One of the coolest things about NESJA is that there seems to be a growing sector there in New England that focuses on training youth to take up skijoring.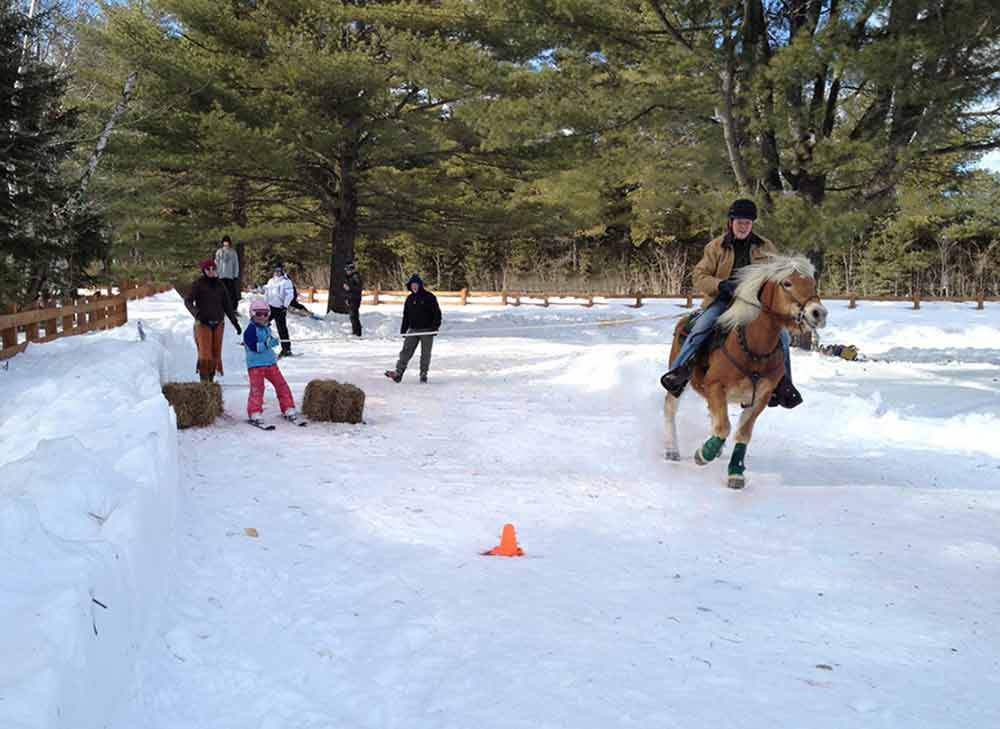 Meanwhile, in 2015, another milestone took place in American skijoring.  FASTFORWARD Media began following the skijoring circuit.  Their efforts in filming the sport led to the release of the film ICE COWBOYS on Altitude TV.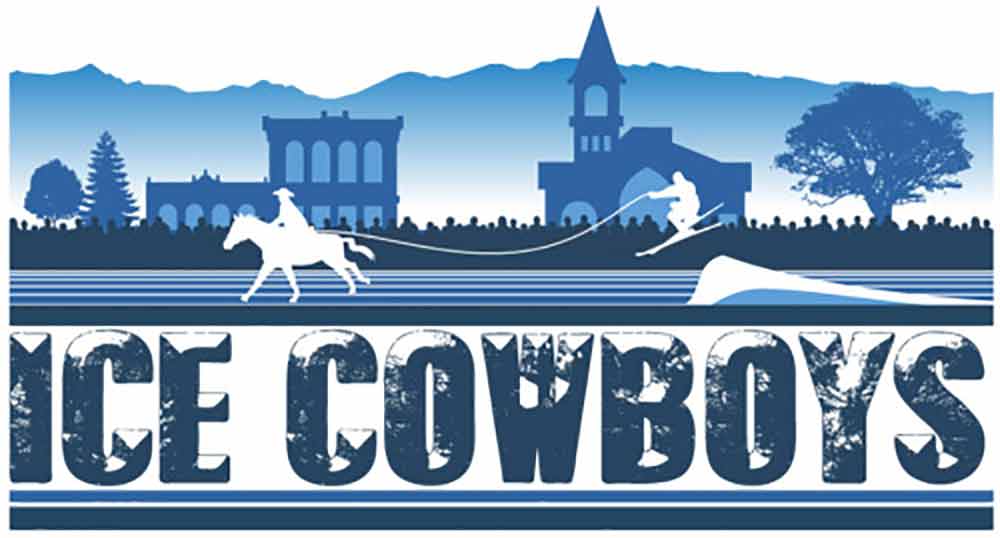 Following the burgeoning success of ICE COWBOYS, it was realized that FASTFORWARD Media could provide media and marketing for skijoring and thereby help promote the sport further.  FASTFORWARD Media and NASJA merged to then form Skijor America (at times interchangeable with the name Skijoring America).  Their press release states:  "Skijoring America will hold an annual Skijoring America's Cup, exclusive to the Pro (Open) Class division.  FASTFORWARD Media will contract with Skijoring America for the rights to film Skijoring America's Cup, with the ICE COWBOYS TV series being based around these races, providing race venues with infinite TV exposure."  The schedule for the season can be found by clicking here.
Everyone is now gearing up for the new season.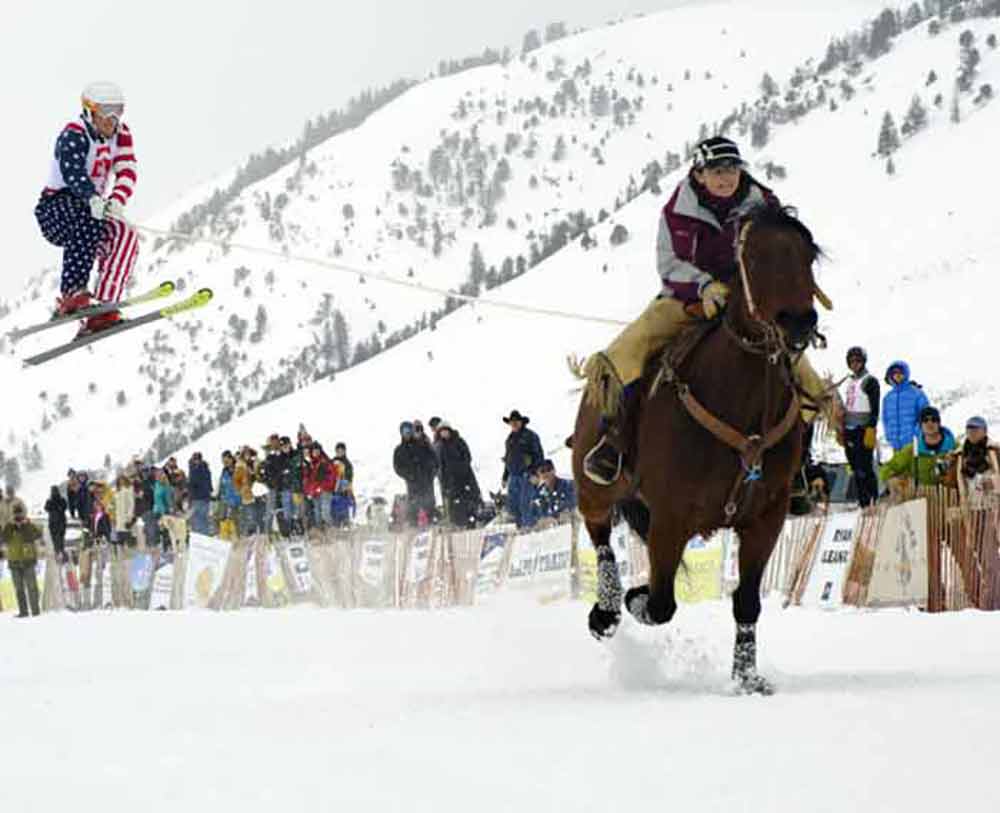 In general, there have been two types of skijoring courses:  the straightaway and the horseshoe.  Moreover, there are different classes of skijoring:  the open class (highest skilled), the sport class (intermediate level), the novice class (beginner's level — but, if a horse wins first place in this round, it automatically moves to the next class of competition), the mule class (where a mule rather than a horse does the pulling), a peewee class (for kids, mainly found in New Hampshire), and even a canine skijoring class (where dogs do the pulling, although that's a different topic from equestrian skijoring).  As NASJA, NESJA, and Skijor America continue to consolidate the rules and regulations of the circuit, expect to see some modifications in the competitions over time.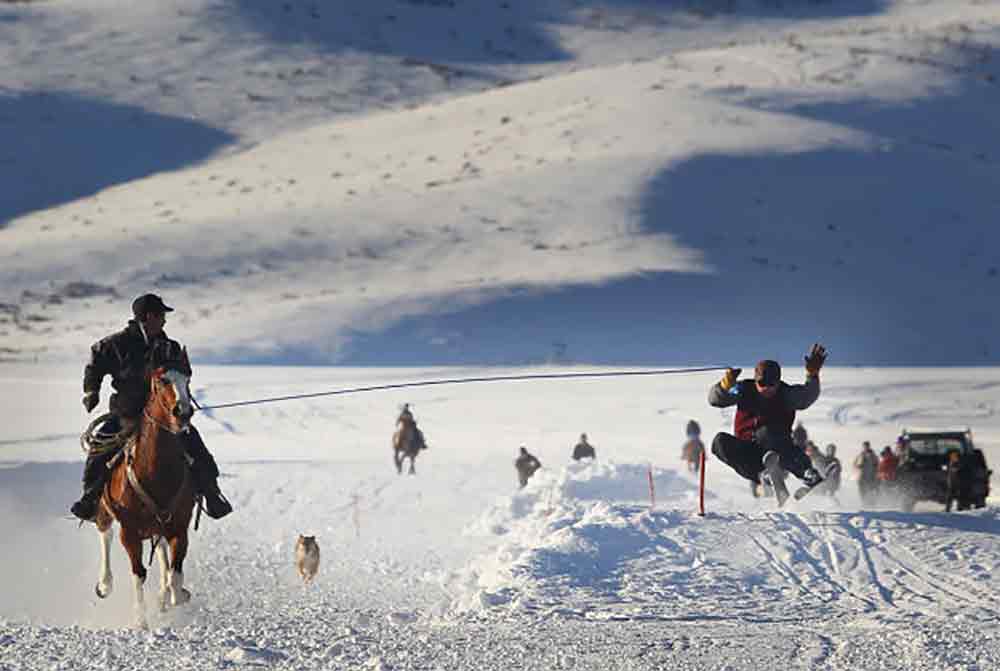 Besides, some towns hold their own independent skijoring events that do not fall under the umbrella of NASJA, NESJA, nor Skijor America.  As skijoring enthusiasts know, the love of skijoring does not have to be fulfilled by the road to a national title.  Rather, it can be just as satisfying for the folks who compete in a town's or city's independent winter festival.  Some places have been rather inventive and creative with their independent skijoring events, such as having snowboarders as competitors, rather than just skiers.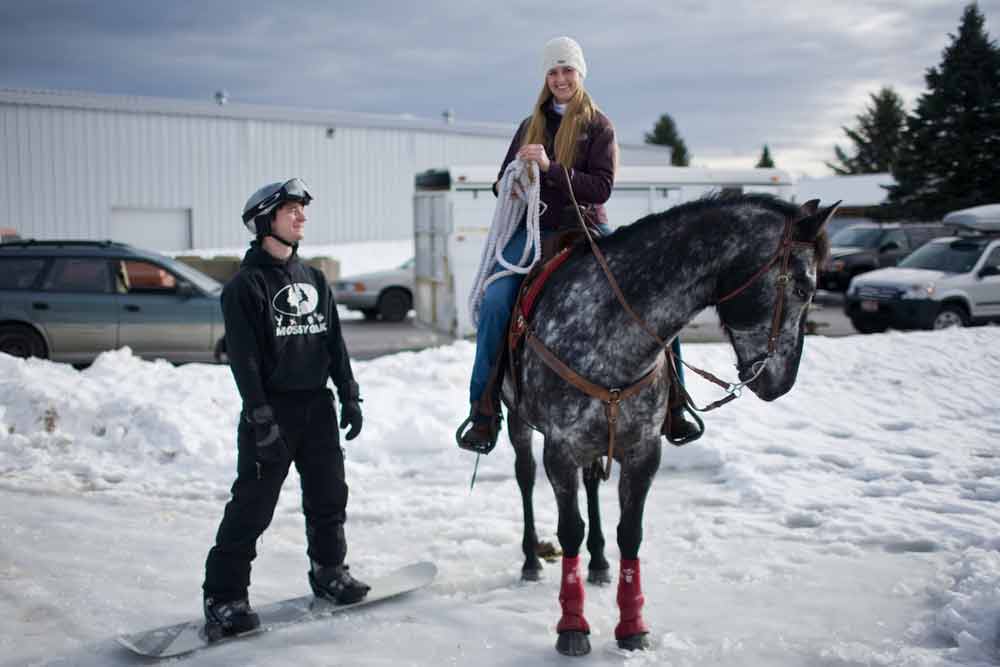 If you find yourself now bitten by the skijoring bug, there are some safety issues to be aware of.  Start in a simple, controlled environment.  If you are a beginner, wear a helmet.  Research online and consult with skijoring experts on how to get started.  And, if possible, find the nearest certified skijoring school or instructor for more serious training.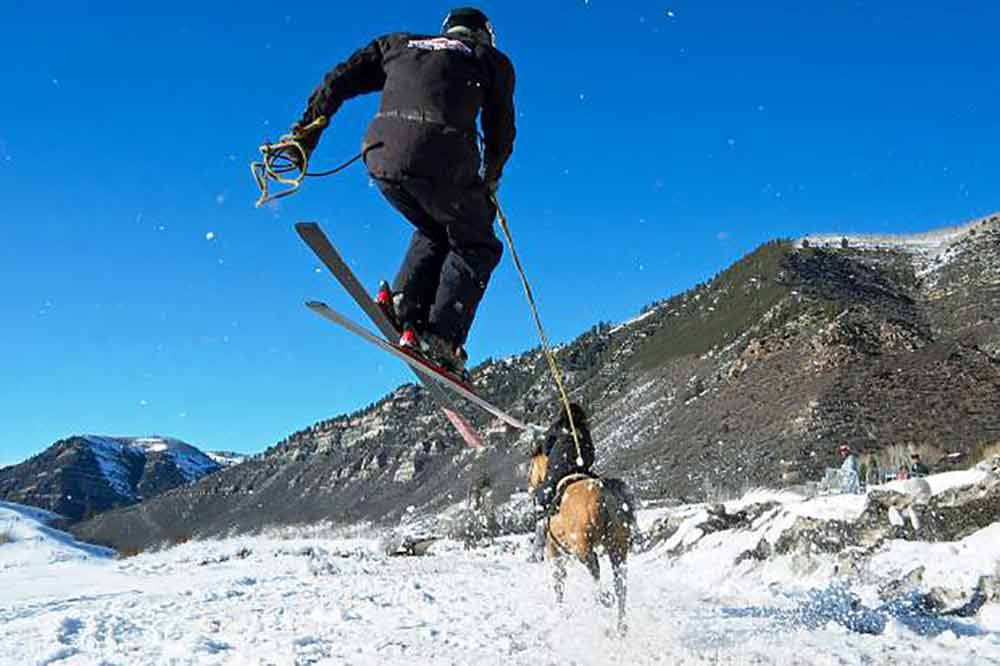 Did you know there is a budding industry in skijoring horses?  Finding the right skijoring horse for your needs can make the difference.  If the skijoring circuit lands in a town or city near you, take some time to look at the skijoring horses for sale there.  Who knows, you might be able to find a good horse there that can help you along in your skijoring adventure.  You can likewise consult with skijoring horse owners on tips for better training sessions with your horse.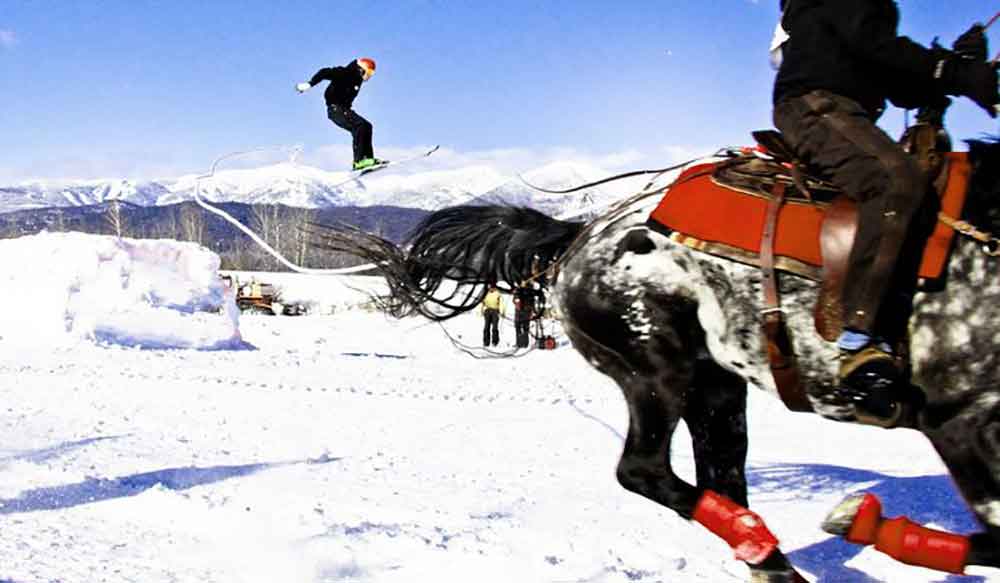 Skijoring apparel has likewise become quite the commodity.
Of course, some readers may still question the concept of cowboys and skiing.  Wonder no more about that:   just take a look at how these cowboys have taken to the snow.  This scene is from the annual Cowboy Downhill event in Colorado that takes off with a deluge of cowboys on skis.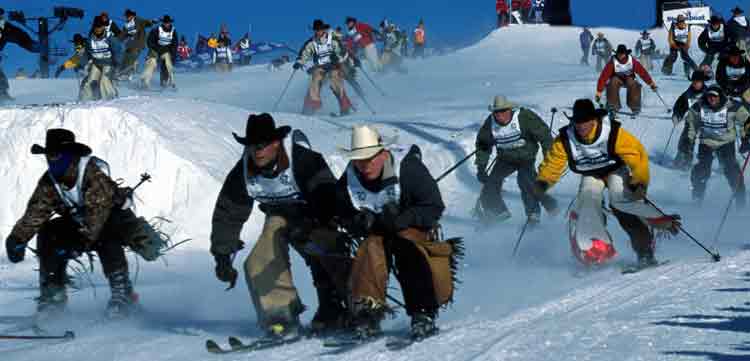 The annual Cowboy Downhill is a whole other winter sporting event that seasoned skiing wranglers can get in on.  We mention it here because learning how to ski is essential to skijoring, for it helps greenhorn wranglers-on-skis get a better feel for the gear and learn how to maneuver terrain.   Here are more photos from the Cowboy Downhill event to help inspire you to gain experience on skis.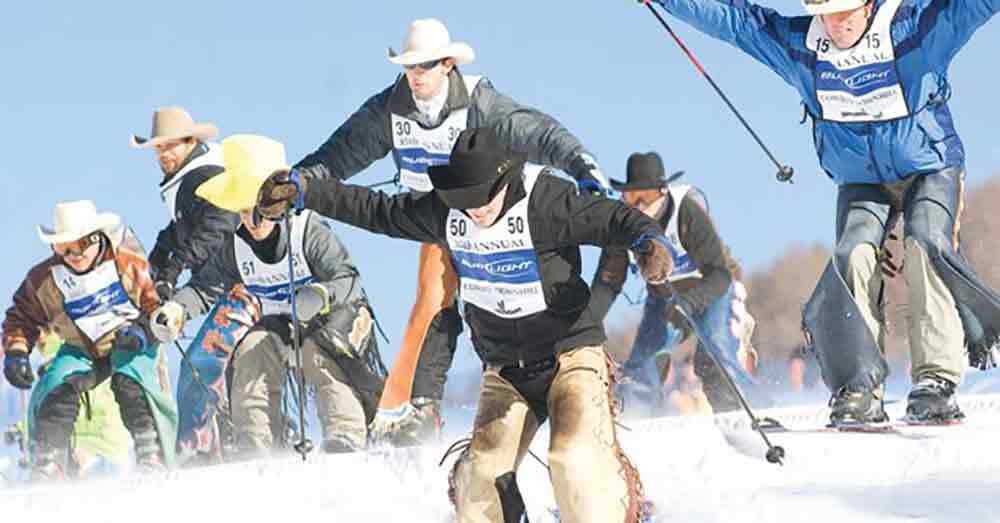 For further motivation,  just think, taking up skijoring will mean finding something in common with troops undergoing Arctic training.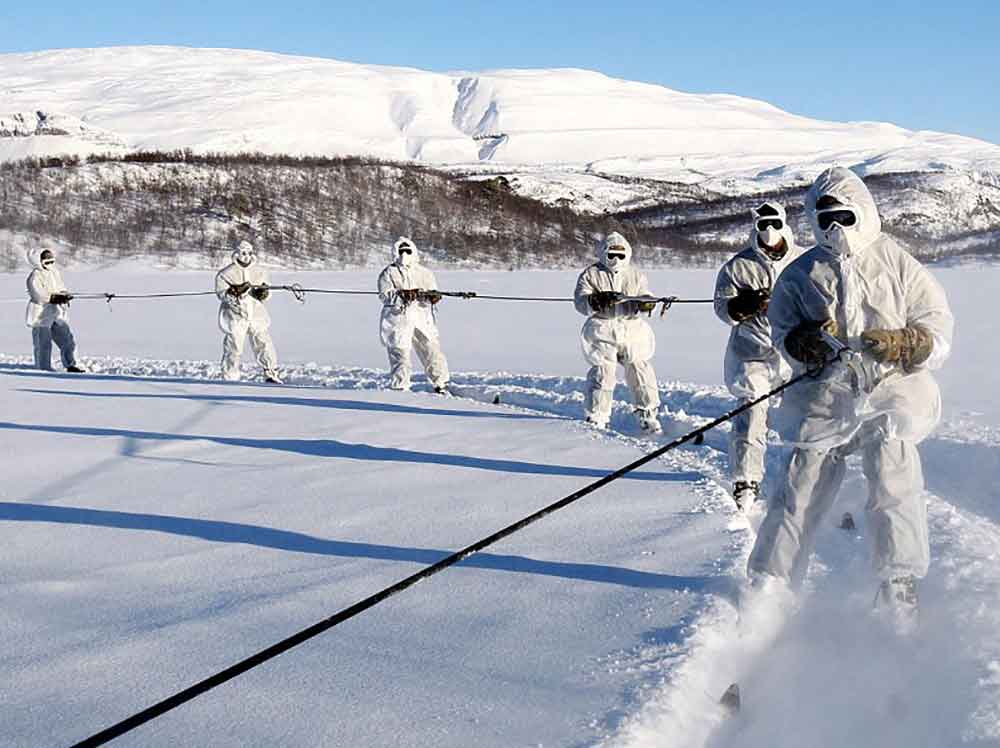 So, while you might think of using a snowmobile for your skijoring adventure, like the folks in this photo…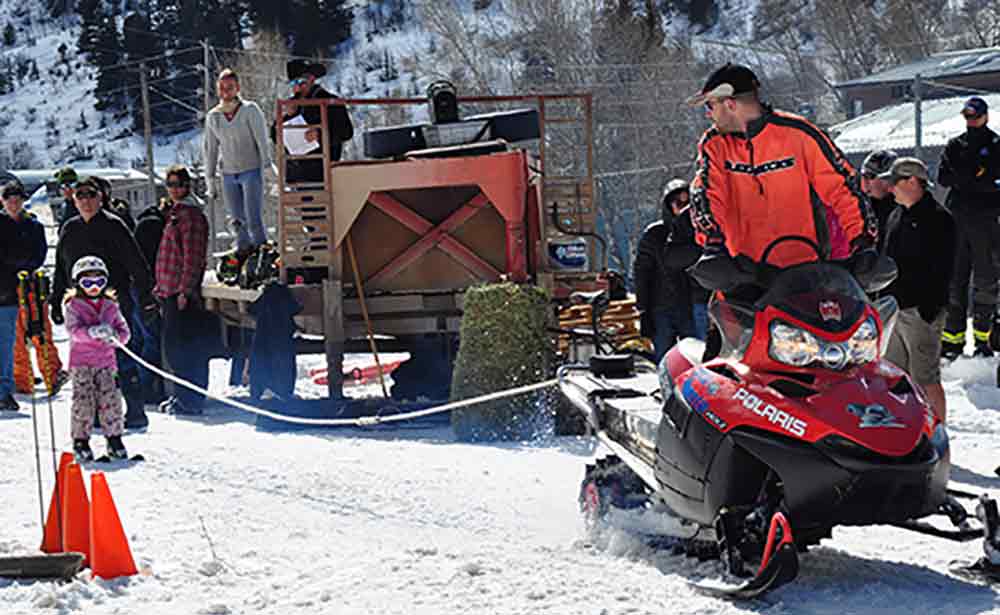 In truth, there's nothing exactly like the collaboration between horse, rider, and athlete (skier or snowboarder) as there is in the winter sport of skijoring.   So, grab your snow gear or your cowboy hat for some snowy saddling up.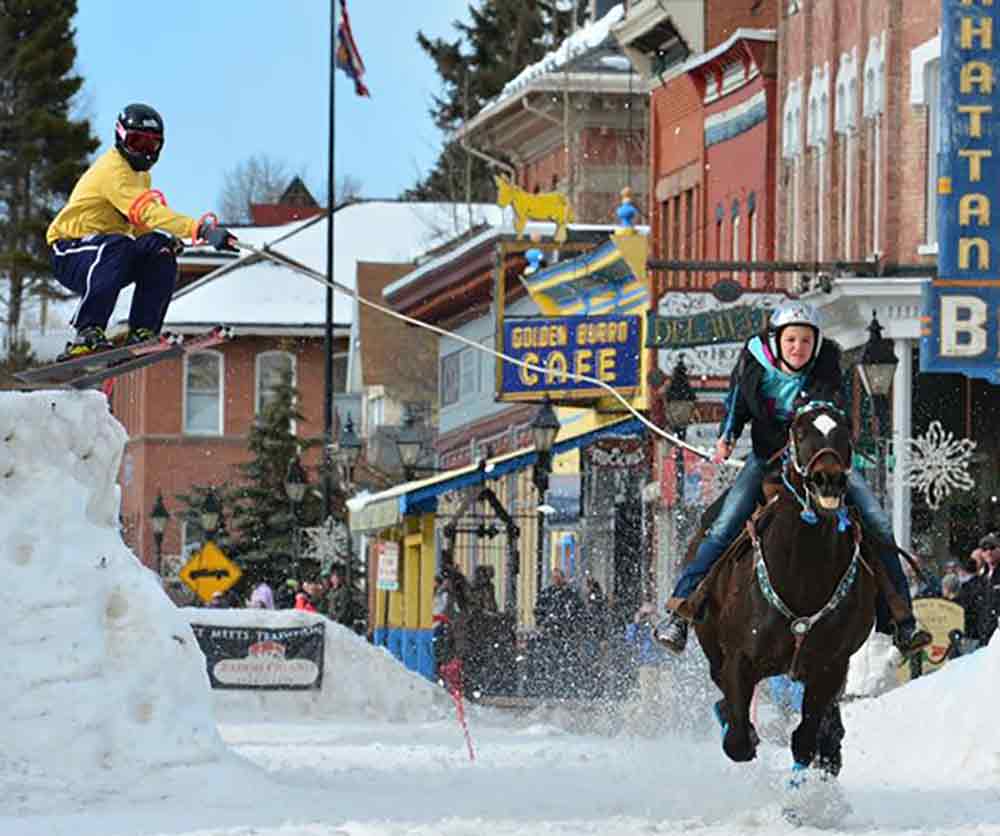 Sources for all images in this article:
1.Featured image is modified from Jackson Hole News & Guide at jhnewsandguide.com
2.Skijoring duo of cowboy and skier training near the woods, from Kevin's Travel Journal at kevinstraveljournal.com
3.Boy and his horse pulling skiers, modified from Steamboat Today at steamboattoday.com
4.Cowboy pulling skier, modified from Silverton Skijoring at silvertonskijoring.com
5.Winter window, modified from Pinterest at www.pinterest.com/pin/525795325225183902/
6.Acoustic guitar in snow, modified from StellarSky on Tumblr
7.Winter shadow of mounted cowboy, modified from Pixabay at pixabay.com
8.Ancient skiing rock art across Northern Eurasia, from National Geographic at ngm.nationalgeographic.com
9.Ancient rock art of moose and skier in red, from The Ultimate History Project at ultimatehistoryproject.com
10.Ancient rock art from Mongolian China of four skiers near big game, from Vintage Winter at vintagewinter.com
11.Roman mosaic at Villa Romana del Casale, from QuickiWiki at quickiwiki.com
12.Knud Bergslien (1827-1908) painting entitled Skiing Birchlegs Crossing the Mountain with the Royal Child [Norwegian: Birkebeinerne på Ski over Fjeldet med Kongsbarnet]. Depiction of Birkebeiner skiers bringing Prince Haakon to safety in the winter of 1206 is recognized as a Norwegian icon. The royal child depicted became King Haakon IV; his reign marked the end of the Nordic Civil War era.  Photo here of this painting is from Wikipedia at wikipedia.org
13.Scandinavian deities as skiers by Olaus Magnus in 1555, from the Smithsonian's National Museum of Natural History at www.mnh.si.edu
14.Ullr and Skade, from FreeThePowder.com
15.Ullr medallion, from TimePassagesNostalgia.com
16.Ullr, from 14erSkiers.com
17.Ullr + Skade merchandise box, from Ink361.com
18.Ullr + Skade logo in blue, from UllrSkade.com
19.Ullr+Skade men's clothing, from Ullr + Skade's Twitter page at twitter.com/ullr_skade/
20.Lapplander skijoring with horse, 1903, from Europeana Collections at Europeana.eu and Blog.Europeana.eu
21.Reindeer skijoring, from Skijor International at SkijorInternational.com
22.Skijoring with canine in 1912, from Library.Alaska.gov
23.Skijoring with reindeer, from SilvertonSpecialEvents.com
24.Ancient rock art of skier with wolf next to sheep, ibex, or reindeer, from Recco Professionals Blog at reccoprofessionals.wordpress.com
25.Nordic military skijoring 1909, from Europeana Collections at Europeana.eu and Blog.Europeana.eu
26.Ladies talking as they skijor with horse and rider, 1909, from Europeana Collections at Europeana.eu and Blog.Europeana.eu
27.Trio of ladies skijoring with horse, 1909, from Europeana Collections at Europeana.eu and Blog.Europeana.eu
28.1928 Olympics demonstration of skijoring, from Skijor International at SkijorInternational.com
29.Early 20th century skijoring, from Commons.Wikimedia.org
30.Skijoring at the 1928 Olympics in St. Moritz, Switzerland, from HexJam.com
31.Motorcycle skijoring, from Getty Images
32.Skijoring via motorcycle with sidecar, from Getty Images
33.Motorcycle skijoring, from British Pathé News
34.Paris Ski Runners Drawn By Motor Car via Skijoring Antique Printed Photo, from eBay.ie
35.Vintage photo of skijoring via car, from Europeana Collections at Europeana.eu and Blog.Europeana.eu
36.Skijoring via sports car 1950s, from Core77.com and British Pathé News
37.Skijoring in 1931 at Taymouth Castle in Scotland, from CNN at edition.cnn.com
38.Cowboy carrying skis, modified from DailyMail.co.uk
39.Mounted cowboy and cowgirl on horseback – both carrying skis, modified from SuperTravel.co.uk
40.Golden Burro Cafe, modified from Skijor International at skijorinternational.com
41.Leadville Skijoring logo, modified from LeadvilleSkijoring.us
42.Vintage Leadville Skijoring newspaper clipping, from CPR.org
43.Vintage photo of skijoring in Colorado, from Steamboat Today at steamboattoday.com
44.Vintage 1956 photo of Leadville skijoring winners and their riders, from CPR.org
45.Olympic legend Buddy Werner ski joring on Lincoln Avenue, in front of F.M. Light & Sons Clothier, from fmlight.com/steamboat-springs-winter-carnival-100th-anniversary/
46.Modern skijoring in Old Town Square, modified from Skijor America at SkijoringAmerica.com
47.Skijoring jump with cowboy pulling skier, modified from Equitrekking.com
48.Skijoring event where skier spears jousting-like rings, from NPR.org
49.Skijoring during snowfall, modified from VailDaily.com
50.Female skijoring rider, from Steve Sunday via facebook.com/vikingsodinsraven/photos
51.NASJA logo, from North American Ski Joring Association at nasja.com
52.NESJA logo, from North East Ski Joring Association at nesja.com
53.Young girl taking skijoring lessons, modified from North East Ski Joring Association at nesja.com
54.Youth skijoring, from Portraits With Horses at portraitswithhorses.com
55.Youth on skis holding skijoring towline, from Portraits With Horses at portraitswithhorses.com
56.Ice Cowboys logo, from Leadville Today at leadvilletoday.com
57.Skijor America logo, from Skijor America at skijoringamerica.com
58.Skijor International logo, from Skijor International at skijorinternational.com
59.Skijoring rider with patriotic skier, from Jackson Hole News & Guide at jhnewsandguide.com
60.Skijoring team with a dog chasing after them in the distant background, from Magic Valley at magicvalley.com
61.Skijoring team comprised of female rider and snowboarder during the annual Sandpoint ID winter carnival, from Wired at wired.com
62.Skijoring in a wintry countryside, modified from Vail Daily at vaildaily.com
63.Skijoring horse in the foreground and skier midjump in the background, from Big Sky Journal at bigskyjournal.com
64.Scott Ping sports a SKIJOR Whitefish, MT jacket, modified from Skijor International's Facebook Photos at facebook.com/skijorinternational/photos
65.Will James in his "Championship" Carhartt jacket, modified from Skijor International's Facebook Photos at facebook.com/skijorinternational/photos
66.The annual Cowboy Downhill, modified from On The Rodeo Road at ontherodeoroad.com
67.Cowboy skiers from the annual Cowboy Downhill, modified from Dreams Time at dreamstime.com
68.Young cowboy holding skis, from NBC News at nbcnews.com
69.Cowboys skiing at the annual Cowboy Downhill, modified from Explore Steamboat at exploresteamboat.com
70.Military Arctic training with skijoring, from The Telegraph at telegraph.co.uk
71.Alaska Arctic training with skijoring, from NPR.org
72.Military skijoring training in the Arctic, from Daily Mail at dailymail.co.uk
73.Young girl skijoring via snowmobile, from The Parents Handbook at theparentshandbook.com
74. Skijoring team of youth rider and skier, from SnoCountry at snocountry.com
75.Skijoring team (sepia), modified from the Denver Post at denverpost.com
76.Skijoring team, modified from GoPro thumbnail at youtube.com/watch?v=CmHoXXQJB74
77.Skijoring cowboy and skier, modified from NASJA's Twitter profile at twitter.com/Skijoring
78.Skijoring team with female rider, modified from Gallatin Valley Skijoring's Instagram at instagram.com/p/BABRFojFIl0/
79.Youth trainees skijoring with instructor, modified from Sun Valley Magazine at sunvalleymag.com
80.Skijoring season cowboy and skier duo at winter event, modified from Daily Inter Lake at dailyinterlake.com