What's there to know about the fiddle and its place in American country music history?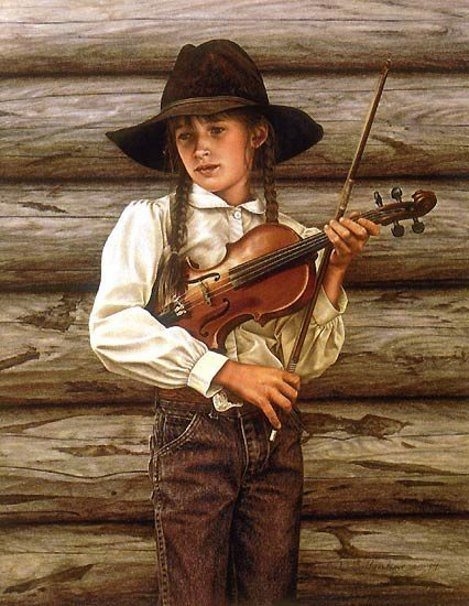 The fiddle was the first country music instrument of choice, not the guitar, despite the latter's extensive use today. After all, the fiddle already made its appearance in colonial America.
Historians consider John Utie as the first fiddler on American soil; he arrived in Virginia in 1620. By 1736, fiddle contests were not unheard of, according to archived historical records. Even President George Washington had a favorite fiddle tune, "Jaybird Sittin' on a Hickory Limb." Moreover, Founding Father Patrick Henry – who popularized the rallying slogan "Give me Liberty, or give me death!" – was documented as being rather good at fiddle playing.
Many a battle victory was likewise celebrated during the early American years with music from the fiddle. Andrew Jackson's triumph in the War of 1812, for example, was commemorated with the popular fiddling tune, "Eighth of January."

Did you know that Davy Crockett was once a "ferocious" fiddler as well? The Houston Museum of Natural Science exhibited Davy Crockett's fiddle amongst its collection back in 2011. Amaranth Publishing recently provided a reinforcing anecdote on Davy Crocket and his fiddle at the Battle of the Alamo on February 23rd, 1836: "Inside the Alamo, Travis and the Texans fired their message to Santa Anna with a blast from their 18-pounder. They had their music, too, with Davy Crockett's fiddle and John McGregor's bagpipes… Davy's fiddle-playing and outlandish storytelling kept up the spirits of the besieged defenders."
Meanwhile, former Tennessee Governor Bob Taylor, who was in office from 1887 – 1891 and then from 1897-1899, frequently peppered his gubernatorial speeches with references to fiddles, for he was also a seasoned fiddler. He often described fiddles with high regard, as evidenced by this quote: "Every one of them breathes the spirit of liberty; every jig is an echo from flintlock rifles and shrill fifes of Bunker Hill."
Automobile industrialist Henry Ford similarly helped advance the fiddle's reputation by establishing a series of fiddling contests in the 1920s, for the purpose of "preserving old American values." The popularity of this stringed instrument in the 1920s helped bring it into the forefront of country music.
Interestingly enough, country music is said to have officially begun on June 30th, 1922 – that was when Texas fiddle champion Eck Robertson and his fellow fiddler Henry Gilliland dressed up in Confederate uniforms for an audition at Victor Talking Machine Company's Manhattan office, says the Old-Time Fiddlers Hall of Fame website. Rival company Okeh saw the lucrative value of old time music played by Appalachian farmers with their fiddles, so they were the first to market country music before Victor did. Okeh consequently signed up Fiddlin' John Carson in 1923, in turn making Carson the first official country music recording star. Not long after, fiddling chicken farmer Gideon Tanner of northern Georgia signed on with Columbia in 1924.
And, during the historic night of November 28th, 1925, "an announcer on Nashville radio station WSM introduced fiddle player Uncle Jimmy Thompson as the first performer on a new show called The WSM Barn Dance," thus inaugurating what would eventually come to be known as the first Grand Ole Opry show. From there on out, country music was seen to be a viable market that record companies could take seriously, therefore making the fiddle the main instrument of the early 20th century country music era, until it was replaced by the guitar.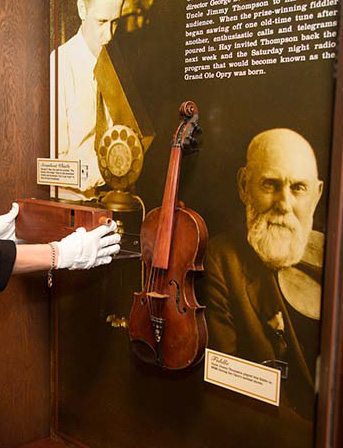 So, the next time you hear the fiddle on a Zac Brown Band song or a Brad Paisley ditty with Charlie Daniels, just remember the storied past of the fiddle – not only in American folk tradition but especially in American country music history.